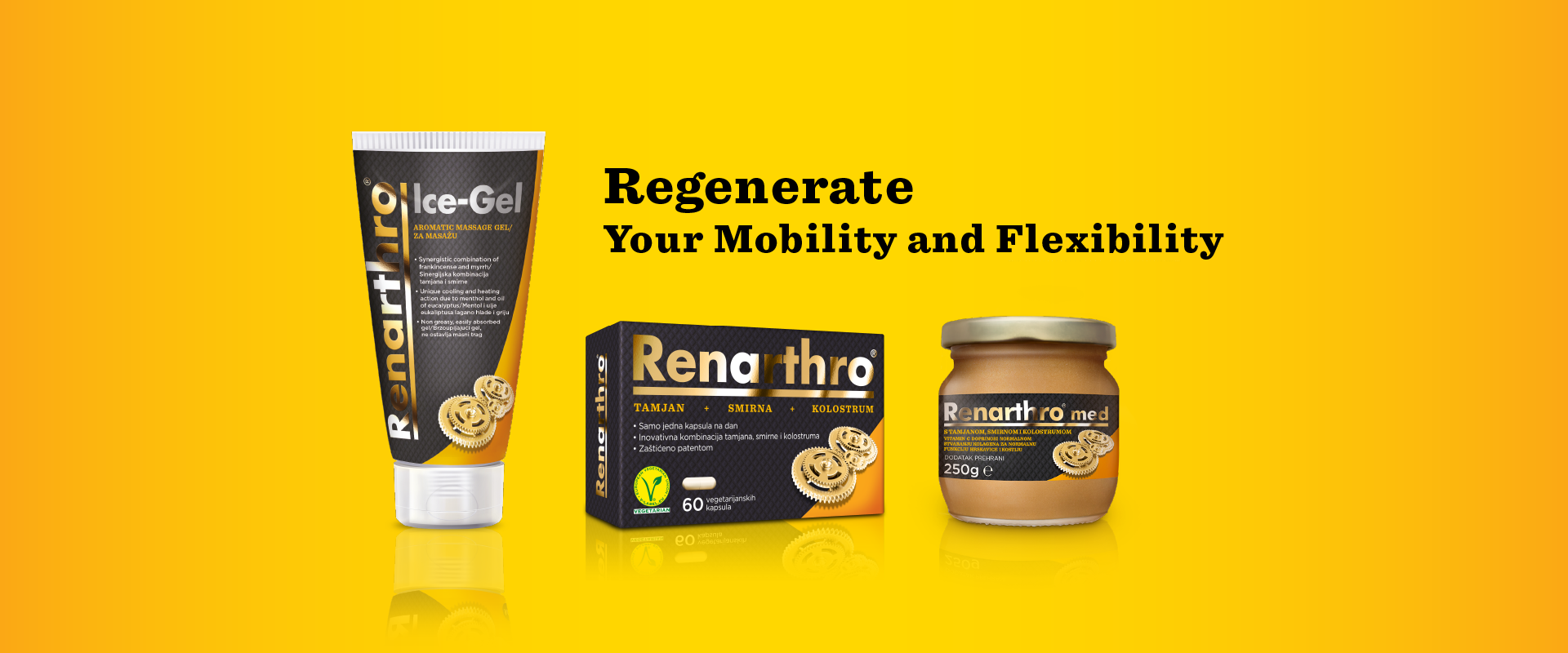 The new and unique synergistic combination of frankincense, myrrh and a immune regulating peptides
Why is it important to maintain bone and joint health?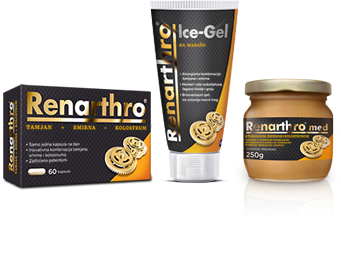 Provides relief from inflammation and alleviated pain fast, within only a few days, when compared to 30 - 60 days needed for glucosamine

Quickly acheived improvement in mobility and range of movement.

Safer – Renarthro contains ingredients that are hypoallergenically proven, compared to shellfish based glucosamine products with high iodine content.
Green and Sustainable - Renarthro uses ingredients collected without any harm done to plants or animals , compared to chondroitin obtained from cartilage of sea sharks, an endangered animal.

The state of your joints depends on the quality of the cartilage, which is crucial to the mobility and flexibility of the joint, and which at the same time alleviates mechanical stress and strain. Various pathological processes, injuries and aging cause continuous degeneration of our joints.

For centuries traditional medicine has been using the aromatic resins of frankincense and myrrh to cure various chronic inflammatory diseases. The Holy Bible, Egyptian scrolls, the Vedas and the Quran all mention frankincense and myrrh.The Three Wise Men - Caspar, Melchior and Balthazar brought frankincense and myrrh to baby Jesus as a gift. At that time, these were the most prized gifts alongside gold.
Colostrum is pre-milk produced by all mammals at the time of giving birth. Colostrum is a mixture of immune and growth factors as well as important nutrients, all of them designed to support a immune system, ensuring the health, vitality and growth of the newborn.
Colostrum contains various immune system factors such as immunoglobulins , proline-rich polypeptides and lactoferrin.
Proline-rich polypeptides (PRPs) act systemically, modulating the complex immune system and are therefore the most important ingredient in colostrum. Proline-rich polypeptides (PRPs) are intercellular signaling molecules that have the unique ability to modulate the immune system, turning it up when needed or turning it down when it is overactive.
The colostrum used in Renatrtho is produced through a proprietary process which removes inactive fats and enriches proline-rich polypeptides.
As a result of this process, our colostrum contains about 3-4 times more PRPs than other colostrums.
Renarthro is formulated to quickly alleviate pain, decrease inflammations and preserve joint health.
This combination of frankincense and myrrh extracts with colostrum is completely unique and patent-protected. Farmavita Ltd's patent-protected innovation lies in the fact that Renarthro's efficacy is not a mere sum of the respective effects of the individual components, but rather a synergy of each ingredients' effects.
Renarthro products
An innovative combination of frankincense, myrrh and colostrum.
Administration
How to take?
INGREDIENTS
One capsule contains 140 mg frankincense extract, 140 mg myrrh extract (Commiphora spp.) and 70 mg Colostrum Powder.

ADMINISTRATION
Directions for use: For the first ten days: take one capsule with a meal, three times a day. After the first ten days, it is recommended to reduce the dosage to one capsule per day, and continue using Renarthro for a longer period of time.
Do not exceed the stated recommended daily dose.
CONTRAINDICATIONS
People with sensitivities to any of the ingredients should not take Renarthro. Renarthro should also not be taken by children or pregnant women. Renarthro should be stopped one week before surgery.

STORAGE AND SHELF LIFE
Keep in a dark place at a temperatureof up to 25°C.
The shelf life is 36 months from the production date specified on the package.
It must not be taken after the specified date.
HOW SUPPLIED
Boxes with 30 or 60 capsules in blister packaging.

MANUFACTURER
Farmavita d.o.o., Zagorska 52, Samobor, Croatia

Licensed by Ministry of Health and Social Welfare approval dated June 28,2011.
Class:UP/I-541-02/11-01/272. Notification number MZ:0812720611
Frequently asked questions
FAQ
How quickly can I expect to see an improvement?
You can expect the first signs of improvement after only three days. Most Renarthro users should feel alleviation of pain and inflammation in the joints after ten days. For optimal results, several months of regular usage may be required.
Are there any other positive effects of Renarthro capsules in addition to preserving joint health?
For how long can you take Renarthro capsules?
Can the recommended daily dose be increased or decreased?
After you are satisfied with the achieved improvement, you can decrease the recommended daily dose to one Renarthro capsule daily. Increasing the recommended daily dose is not recommended. Scientific literature has described cases when these extracts were used in ten times greater doses, but with medical supervision.
Why should children not take Renarthro capsules?
Why should pregnant women and women who are breastfeeding not take Renarthro?
Are there any interactions with other drugs?
Ask us
Our experts will respond to your questions. We will respond to all your questions, comments and suggestions shortly
Where can you buy Renarthro
Find out where you can buy Renarthro products
Sudan: Synergie Business SuarL
Hungary: MedOmega Kft. Hungary
Personal stories of our satisfied customers
Watch short videos about the success of the application Renarthro
Research Studies
In order to develop products Farmavita d.o.o. used the below stated research studies, and the final reference quotes the text from the patent application Farmavitad.o.o. filed in February of 2011.
1. GummiBoswelli "WHO monographs on selected medicinal plants Volume 4"; World Health Organization,2009, Summary: Monograph on frankincense.

2. Sontakke S, Thawani V, Pimpalkhute P, Kabra P, Babhulkar S, Hingorani H. Open, randomized, controlled clinical trial of Boswellia Serrata extract as compared to nonsteriodal antiinflamtory drug (NSAID) in osteoarthritis of knee.Indian J Pharmacol 2007;39:27-9. Summary: A clinical trial was conducted on 66 persons for a period of 6 months. After two months, in the group that took the Boswellia Serrata extract there were significant improvements recorded in sensations of pain, stiffness and relief related to difficulties in performing daily activities. The improvement was maintained even as far as one month after the group stopped taking the frankincense extract. The group that was taking NSAID also showed significant improvement. The improvement occurred after one month of therapy, but it also disappeared more quickly after the therapy was ceased.

3. Sengupta K, Alluri KV, Satish AR, Mishra S, Golakoti T, Sarma KV, Dey D, Raychaudhuri SP. A double blind, randomized, placebo controlled study of the efficacy and safety of 5-Loxin® for treatment of osteoarthritis of the knee.Arthritis Res. Ther. 2008;10(4):R85 Summary: Clinical trial of frankincense extract (5-Loxin ®) in the treatment of osteoarthritis of the knee was conducted over a period of 90 days. The trial results provide confirmation that the extract of incense is safe to use, and that it significantly reduces the pain and the content of enzymes that break down cartilage (MMP-3).

4. Ernst E.; Frankincense: systematic review. BMJ 2008; 337:a2813. Summary: Summary of results of clinical trials with frankincense extract.

5. GummiBoswelli "WHO monographs on selected medicinal plants Volume 3"; World Health Organization,2009, Summary: Monograph on myrrh.
6. Ichikawa H, Aggarwal BB.; Guggulsterone inhibits osteoclastogenesis induced by receptor activator of nuclear factor-kappaB ligand and by tumor cells by suppressing nuclear factor-kappaB activation.Clin Cancer Res. 2006;12:662–668 Summary: Myrrh extract (guggulsterone) is often used to treat osteoarthritis and bone fractures. The results of this in-vitro trial suggest that guggulsterone reduces the formation of large cells (osteoclasts), which play a decisive role in the breakdown of cartilage.

7. Sumantran V N, Kulkarni A, Harsulkar A, Wele A, Koppikar S J, Chandwaskar R, Gaire V, Dalvi M and Wagh U V. Hyaluronidase and enzyme whihch cuts collagen inhibitory activities of the herbal formulation Triphalaguggulu;J. Biosci. 2007, 32(4):755–761 Summary: "TriphalaGuggulu" is an ayurvedic preparation based on frankincense extract. Results of clinical trials indicate that elevated levels of enzymes whihch cuts hyaluron and collagen significantly affect the degradation of cartilage. The results of this in-vitro trial suggest that TriphalaGuggulu is a potent inhibitor of dengerous enzymes, thus protecting the chondrocytes.

8. Bio SeraeLaboratoires S.A Results of the Clinical Study Efficiency of a specific formulation containing (Colostrum Powder + D-Glucosamine + Chondroitin) in reducing knee osteoarthritis symptoms; 2007 Summary: A mono-centric, randomized, placebo-controlled, double-blind clinical trial was carried out. The trial lasted over a period of 90 days, and it included 57 volunteers who suffered from mild to moderately severe osteoarthritis of the knee. There was no significant difference documented in the total population of trial subjects between the group that took the preparation, and the placebo group. The best result was registered in patients with early-stage osteoarthritis, where the reported reduction in pain was more than 50%. Adverse effects were not observed.

9. Bio SeraeLaboratoires S.A. Prevention of collagen-induced arthritis in mice by a specific formulation with Colostrum Powder; 2008; Summary: The results of tests on mice show that the formulation of Osteol ™ with glucosamine and chondroitin reduces the appearance and severity of arthritis. The efficacy of the formulation is comparable to the efficacy of ibuprofen.

10. Bio SeraeLaboratoires S.A Evaluation of the effects of a formulation combining Osteol™ with D-Glucosamine and Chondroitin, on gene expression in culture of chondrocytes in presence of pro-inflammatory cytokines. Analysis of gene expression using dedicated DNA arrays; 2008 Summary: Results of in-vitro studies have shown that the combination of Osteol ™, glucosamine and chondroitin, under conditions when there is inflammation, helps achieve a significant reduction in expression of genes involved in the preservation of cartilage, and considerably reduces the expression of genes involved in the degradation of cartilage.
11. Bio SeraeLaboratoires S.A Preservation of Chondrocytes study; 2008 Summary: Study results indicate that the combination Osteol ™ and D-glucosamine has an anti-inflammatory effect, which is comparable to the effect of ibuprofen.

12. Adlerova L, Bartoskova A, Faldyna M. Lactoferrin: a reviewVet Med. 2008, 53 (9): 457-468 Summary: Overview of the biological properties of lactoferrin.

13. Naot, D., Grey, A., Reid, I. R, Cornish, J. Lactoferrin - A Novel Bone Growth Factor.Clin Med Res 2005, 3 (2): 93-101 Summary: Lactoferrin is a natural glycoprotein. The study showed that lactoferrin strongly encourages the development and differentiation of cells that are important for formation of bone and cartilage (osteoblasts), and that it has the ability to inhibit the creation of cells that break down bone and cartilage (osteoclasts). Lactoferrin plays an important physiological role in bone growth, and has potential medicinal effects.

14. Cornish J., et al. Lactoferrin is a potent regulator of bone cell activity and increases bone formation in vivo.Endocrinology. 2004;145(9):4366–4374. Summary: The study has found that lactoferrin stimulates the proliferation and differentiation of osteoblasts. Lactoferrin prevents apoptosis of osteoblasts, and stimulates the proliferation of chondrocytes. Lactoferrin potentially inhibits the creation of osteoclasts, but it doesn't inhibit the activity of mature osteoclasts. Lactoferrin accelerates bone growth in-vivo.

15. ZdravkoMauko; Preparation for the treatment of bone disorders and disorders of the joints, Patent P20110080A, Application date: February 04th, 2011. Summary: The patent protects the primary right of application related to the invention for treatment of bone disorders and disorders of the joints, specified by consisting of a mixture of dry frankincense resin extract, dried myrrh resin extract and dried lactoferrin extract .